There have been three further deaths from Covid-19 and 84 additional cases reported to the Department of Health.
There has now been a total of 1,781 coronavirus-related deaths in Ireland and 30,164 confirmed cases.
Acting Chief Medical Officer Dr Ronan Glynn said: "We continue to see a concerning pattern of cases, particularly in Dublin.
"Transmission is diffuse across the county, is in all age groups and is mainly being driven by social interaction within and between households."
Around half of all new cases in Dublin are transmissions involving private households. Dr Glynn said the National Public Health Emergency Team (NPHET) is "very concerned" about the situation.
He said "if it all possible" family gatherings with multiple people from different households, such as communions and christenings, should stop for the time being.
Dr Glynn said he was not talking about weddings, these were special events which people had spent a long time planning. "But having people over to dinner, for example – you don't know for sure if they are healthy or if you are healthy."
Acting CMO Dr Ronan Glynn says that household gatherings like communion and christening parties 'if at all possible … need to be stopped for the next few weeks' in order to get the spread of Covid-19 back under control | Read more: https://t.co/1WqdRkPINc pic.twitter.com/PkdHDvNzI3

— RTÉ News (@rtenews) September 9, 2020
Asked about a potential lockdown in Dublin, he did not want to speculate but said NPHET will meet tomorrow to make recommendations to the Government.
"There will be a strong message coming out tomorrow about reducing social contacts," said Dr Glynn.
On pubs, he said publicans know what they need to do to keep people safe. 
But he would ask pub owners to sit down tonight with their staff and "take a look at the plan they have in place around coronavirus cases. 
"If something does not change, we will be in a worse position in a few weeks' time," said Dr Glynn.
We need your consent to load this rte-player contentWe use rte-player to manage extra content that can set cookies on your device and collect data about your activity. Please review their details and accept them to load the content.Manage Preferences
Professor Philip Nolan, chair of the NPHET Irish Epidemiological Modelling Advisory Group, said: "While the reproduction number for Ireland as a whole is close to 1.0, the reproduction number for Dublin alone is approximately 1.4.
"We are seeing increasing case numbers in Dublin, growing close to 5% per day. If this were to continue, the number of cases would double every 14 days.
"Given the size of Dublin's population it is essential we prevent any further spread now – by limiting our social contacts and taking precautions during any essential contacts."
Professor Philip Nolan has expressed concern over the growth of Covid-19, particularly in Dublin. He says at present the five-day average number of cases is 172 | Read more: https://t.co/1WqdRkPINc pic.twitter.com/si6nykaBE9

— RTÉ News (@rtenews) September 9, 2020
He said our five day average number of cases has risen from 100 to 120 to, in recent days, 172. We have seen a "progressive and clear increase" in the number of people admitted to hospital.
"Unfortunately, there have been four confirmed deaths in the past five days, so the fatalities are creeping up after being zero for several weeks," added Prof Nolan.
He said an increase in cases among older people in the last couple of weeks was a concern. There have been 89 cases in the 75-plus age group in the past 14 days.
Dr Colm Henry, HSE Chief Clinical Officer, said: "The greatest risk of transmission to school children is in the home setting. International experience reveals that reopening of schools has not been associated with significantly increasing community transmission.
"Instead, it is transmission of virus within communities that poses the greatest threat to schools.
"Again, we urge all households to think through their social plans. To keep within the six indoors and 15 outdoors gathering limits and apply physical distancing in all settings."
He said our experience to date with school reopening is "hopeful" and in line with other ECDC countries. There have been cases identified in 54 schools but no outbreaks have been declared.
Dr Colm Henry of the HSE has said that cases have been identified in 54 schools, but no outbreaks have been declared in any schools since they reopened. He says while it is early days, the experience of reopening schools is reassuring | Read more: https://t.co/1WqdRkPINc pic.twitter.com/uHInRC1sCG

— RTÉ News (@rtenews) September 9, 2020
The cases notified today include 51 in Dublin, six in Offaly, five in Kildare and the remaining 22 cases are located in Cork, Donegal, Galway, Mayo, Meath, Roscommon, Tipperary, Westmeath and Wicklow.
32 are men, 52 are women and 66% are under 45 years of age.
Almost a third (30%) are confirmed to be associated with outbreaks or are close contacts of a confirmed case while eight are from community transmission.
Health Minister Stephen Donnelly said the rise in Covid-19 cases here is concerning but it's being replicated across the EU.
He told the Dáil that there are 50 people with the virus being treated in hospital and six of these are in critical care units.
Mr Donnelly said the country will be dealing with this virus for some time because the virus "does not get tired".
'There will be a strong message coming out of NPHET tomorrow that we need to reduce our social contacts,' Acting CMO Dr Ronan Glynn says, ahead of a meeting of the National Public Health Emergency Team tomorrow| Read more: https://t.co/1WqdRkPINc pic.twitter.com/PGZ5WcIe5i

— RTÉ News (@rtenews) September 9, 2020
In Northern Ireland, the latest figures show that 49 new cases of coronavirus have brought their total confirmed cases to 7,957. No further deaths were reported and the death toll there remains 557.
Earlier today, Tánaiste Leo Varadkar said the Government's new Covid-19 roadmap will seek to reopen international travel and bring Ireland's Green List in line with a European-wide list of safe countries for travel.
Mr Varadkar said if we are serious about living with the virus it means more travel and while international travel started the spread of coronavirus in Ireland, it is no longer the main cause of Covid-19.
Rapid testing at airports is being considered, as well as a decision on whether to opt into an EU-initiative that sets out a European-wide map with updated green, amber and red zones depicting safe travel locations across the continent.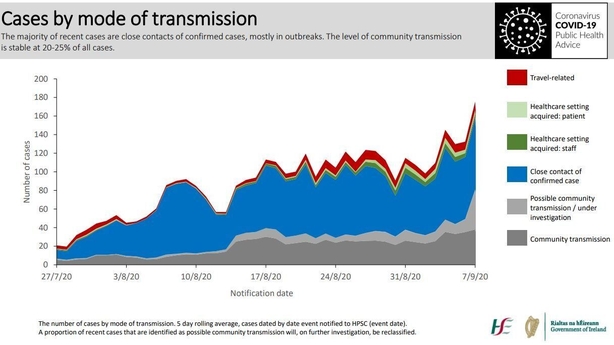 Minister of State Hildegarde Naughton told the Dáil that the Government's travel plan will be discussed at Cabinet next Tuesday and published "shortly after".
This follows a protest by Irish Travel agents outside the Dáil today, who said they want the Government to "save them from extinction" because their industry is on the brink of collapse.
'We can see from the data that older people in particular have taken our messages on board,' Dr Ronan Glynn says, but adds that young people by their nature will have more social contacts because they are 'going out to work' | Read more: https://t.co/1WqdRkPINc pic.twitter.com/B5rO5VjXrq

— RTÉ News (@rtenews) September 9, 2020
Meanwhile the chief executive of Dublin airport operator daa today warned the company has lost nearly €150m so far this year as a result of the collapse in the aviation sector due to Covid-19.
Dalton Philips said there is a very strong case for the introduction of pre-departure Covid testing and serial spot checking on passengers arriving here.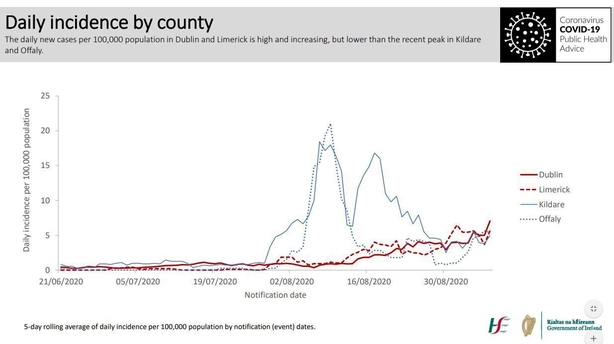 There was disappointing news earlier today when it emerged that trials of a Covid-19 vaccine under development by AstraZeneca and Oxford University have been put on hold owing to a reported side effect in a patient in the UK.